NEWS AND EVENTS
---
CONSERVATIVE COFFEE
August 2, 2022
10:00am
Dutch Oven Bakery
605 Story St., Boone
(In the Tulip Room-Lower Level)
Special Guest-Lauren Novak, Boone County Treasurer
Please join us in discussions on national, state, county, and local political issues.
---
How Does the Overturning of Roe v. Wade Affect You?
With the historic overturning of Roe v. Wade, many have wondered how it affects our Country.   It does not make abortion illegal.   What it does, is allow each State Legislature to make their own laws concerning abortion for their respective state.  As many legal scholars have argued, the right to abortion was not in the U.S. Constitution.  When a law is not in the Constitution, it is left up to the states to determine the law.   In doing this, it gives the rights back to the voters since the voters determine the candidates they elect in their state legislature.
---
FORT DODGE AREA RECEPTION
The Fort Dodge Area Reception featuring our Republican elected officials highlighted the progress we are making in the state as well as the the roadblocks at the federal level.  It was a positive, relaxing, and informative evening reinforcing the party's commitment to conservative values based on our Founding Fathers' faith and hope for this country.  
Below are State Senator Jesse Green, U.S. Representative Randy Feenstra, Ambassador Terry Branstad, RPI Chairman Jeff Kaufman, and Governor Kim Reynolds speaking with the crowd.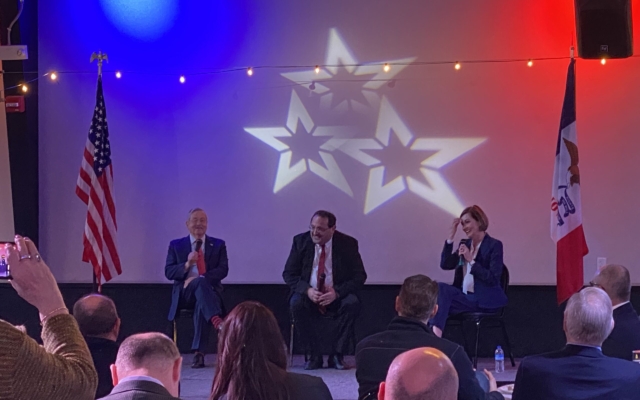 ---
CONGRATULATIONS TO OUR REPUBLICAN CANDIDATES
STATE SENATE DISTRICT 24
STATE REPRESENTATIVE
BOONE COUNTY AUDITOR
BOONE COUNTY SUPERVISOR
---