NEWS AND EVENTS
---
CONSERVATIVE CONVERSATIONS
June 28, 2022
6:00pm
Saints Avenue Cafe
1312 S. Story St., Boone
(In the meeting room)
Please join us in discussions on national, state, county, and local political issues.
---
How Does the Overturning of Roe v. Wade Affect You?
With the historic overturning of Roe v. Wade, many have wondered how it affects our Country.   It does not make abortion illegal.   What it does, is allow each State Legislature to make their own laws concerning abortion for their respective state.  As many legal scholars have argued, the right to abortion was not in the U.S. Constitution.  When a law is not in the Constitution, it is left up to the states to determine the law.   In doing this, it gives the rights back to the voters since the voters determine the candidates they elect in their state legislature.
---
FORT DODGE AREA RECEPTION
The Fort Dodge Area Reception featuring our Republican elected officials highlighted the progress we are making in the state as well as the the roadblocks at the federal level.  It was a positive, relaxing, and informative evening reinforcing the party's commitment to conservative values based on our Founding Fathers' faith and hope for this country.  
Below are State Senator Jesse Green, U.S. Representative Randy Feenstra, Ambassador Terry Branstad, RPI Chairman Jeff Kaufman, and Governor Kim Reynolds speaking with the crowd.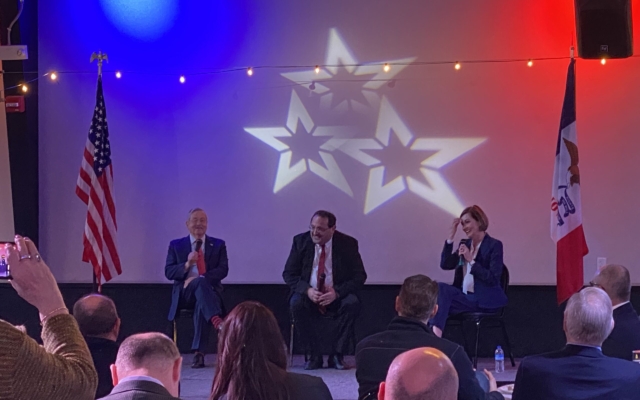 ---
SAYING GOODBYE TO A CONSERVATIVE LEGEND
Republicans and conservatives are heartbroken over the loss of conservative talk show host, Rush Limbaugh, who lost his battle to lung cancer on February 17, 2021.   Rush was a great American and Conservative.  Our thoughts and prayers go out to his family and friends.
---
Letter to President Donald J. Trump
from Boone County Iowa Republicans
November 9, 2020
Dear President Trump,
We want to express our very special heart-felt thanks for all you have done for us, our country, our children, grandchildren and generations to come.    In sharp contrast to almost all winning Presidential candidates in our lifetimes, you have kept all your campaign promises and have done many other good things for our republic.   You have withstood constant slanderous attacks and false accusations starting before you were elected that would have caused almost anyone else to give up and resign, and you have done all that for us.   Recent news of record third quarter economic growth and successful development of a covid-19 vaccine in record time are other examples of your incredible successes.
You have had extreme difficulty getting your goals and accomplishments out to too many Americans because of negative "mainstream news" coverage or no coverage.   Despite that, millions of us have found information sources that show what is really going on.  This week, you have experienced twitter shutting down your account so that it is very difficult to get messages out to the public except for a few conservative talk show hosts and conservative news media outlets.
We are very grateful that despite news media blockages, you have made an amazing and overwhelming effort to meet people around the nation with a schedule of rallies that many younger people would not be able to meet.
We and many of our friends see you as one of the very best presidents our nation has ever had.   We love you and are praying for your success in overcoming the most extensive voter fraud corruption in our nation's history.   You have our complete support.
Very sincerely,
Boone County Iowa Republican Central Committee
---
Great day at the Boone County Trump Parade

---
CONGRATULATIONS TO OUR REPUBLICAN-ELECT CANDIDATES
STATE SENATE DISTRICT 24
STATE REPRESENTATIVE
BOONE COUNTY AUDITOR
BOONE COUNTY SUPERVISOR
---
Joni's 2019 Annual Roast and Ride & Campaign Kickoff
Thanks to all the volunteers that helped with Joni's 2019 Annual Roast & Ride and Campaign Kickoff.   The Roast & Ride was a great success with U.S. Senator Charles Grassley, Former UN Ambassador Nikki Haley, Governor Kim Reynolds, and RPI Chairman Jeff Kaufman in attendance.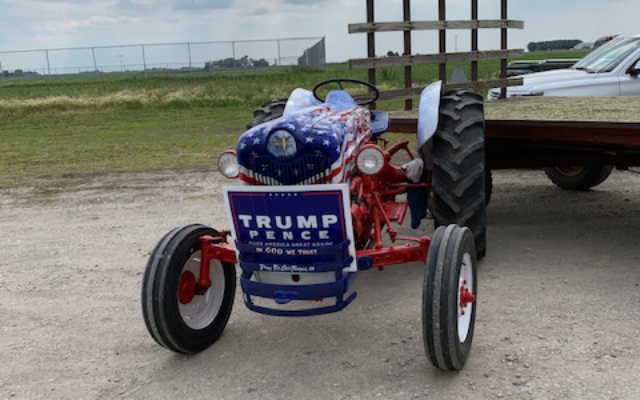 ---